Aurora Borealis Notifications was founded by us, Amy Stratman and Kristie Stariha. We were new moms at the time, and whose personalities are enthusiastic about hobbies, the most intense one being aurora watching (other hobbies were/are taking over our lives as well, but we'll stick to the topic). Little did we know we are not alone. And little did we know then, that aurora watching isn't as easy as it might sound. There is a lot of false information out there! When one has a passion for something, it can become almost an obsession. If you are reading this because you are obsessed with "the lights", welcome to the world of aurora hunting, aurora chasing, aurora watching, auroras!!!
This is a network for Alaska residents and visitors to get real time notifications when the  aurora borealis is visible in the sky. We also help spread the word from other areas around the world. This service is powered by the human eye, and not by a computer. This webpage is dedicated to documenting and reporting the aurora season in an unscientific manner.
If you want to be an aurora reporter, simply facebook message, tweet, or text us. Tell us what you see and where you are. For example, say "I see large green bands, and I am near the airport in Anchorage!", or "I see it, and I am in downtown Fairbanks!".
We watch the sky nightly from mid August through the end of April. Auroras may still be seen in parts of Alaska where it gets dark into May, but the timeframe of dark sky is so small, if you want to see the aurora, you can just wait for the dark hour (literally one or two hours). Auroras are seen in lower latitudes year round (in the northern states), if the aurora storm is strong enough.
In the winter of 2009-2010, I would call some friends to wake them up and tell them the aurora was out, since I was already up late at night (or all night) with the baby. Then in the fall of 2010, I would spot the aurora and in addition to calling, I would go on Facebook to tell my friends. My little list of friends to call grew, and my friend Kristie said I should make a Facebook group. We were always scheming, trying to come up with something fun to do. The list just kept growing. Basically, it is like the old fashioned phone tree that Fairbanks used to have going way back when.
The more people reporting the aurora, the more successful the report, because sometimes for whatever reason we don't see it, but someone in another part of town might, due to weather, terrain, or less trees. We do not glean reports off other (newer) websites, however, they do glean reports off of us! Many new websites are collecting reports now, so the system we have is getting a bit watered down. People now a days enjoy automated systems, unattended websites, and apps. NONE of these are accurate in "spotting" the aurora, it is ONLY data! You still need to interpret the data. This website was founded on good old fashioned word of mouth and not automation. As time marches on, we'll see how things change. It is highly possible! We all have one thing in common….we love the aurora!
Facebook page facebook.com/AuroraNotify
If you like chatting about the aurora and want more than the page has to offer, go to our group to talk about what you see, your photos, camera settings, special events, and more,  facebook.com/groups/auroraborealisnotificationsgroup
To get notifications on your cell phone, use twitter: twitter.com/AuroraNotify and be sure to click on mobile notifications and turn on the middle of the night hours. Another way is to text 40404 and type the message " Follow AuroraNotify ". If you already have a twitter account, you need to have your phone number on your profile settings for this to work.
Please do help keep us online and hunting auroras by visiting our advertisers. Thanks so much!!!
Aurora Borealis Notifications is a business licensed in the state of Alaska. Everything we create, including words, articles, information, compilations, and photos are copyrighted. You may not copy anything we publish without credit to us (ABN). This includes the website idea, pages, our posts on this website, and social media. This includes the terms "Aurora Party", "Pie Party", "Aurora Pie Party", "Aurora Sandwich", "Aurora Lovers", "Aurora Shooter Network", "Aurora Network", "Aurora Borealis Network", "ABN" (in terms of auroras), "Northern lights Notifications", "Aurora Shootout", "ABN 2 aka Aurora Lovers", "ABN Group 3" "Aurora Reporter", "Aurora report", "confirmed aurora report", et al, all my ideas and words. We were the first "aurora information" on social media, and the first to "report" live auroras. If you would like to thank us properly after sharing our content or by gaining business via ABN, please use the donate button tip jar found on this website or the advertising link found on this website. If you would like to use the content as your own, such as naming a facebook group after our aurora network, then just ask. All other use violates US copyright laws. As of this posting, no one has secured a copyright release, and we retain the rights to seek damages. This is not to be mean or claim the big sky to ourselves like some have said. This is to protect years of hard work. I don't claim your photo as my own, so appreciate that you don't claim my words as your own. As of this updated paragraph, I have 9 people who have plagiarized my work. Please be honest. Sorry that this negative information has to be posted. I just wish people were honest and good.
thanks for visiting!
Amy Stratman
and
Kristie Stariha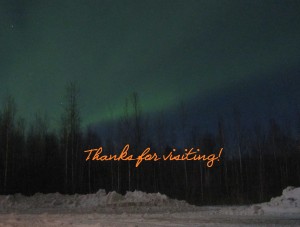 If you are interested in advertising on this website or have a question for us, simply contact us by

clicking here
ABN is a small local Fairbanks area business. We are 1 owner and a few social media admins. Help offset the cost of running Aurora Borealis Notifications and donate today. It is much appreciated.