Where to Go in any Aurora Zone
Where do I go in the entire world to see the aurora?
Anywhere in the aurora zone. What is the aurora zone? It is where the aurora oval is and where the aurora is typically seen.
Locations in the aurora zone include most of Alaska USA, mid to northern Canada, Iceland, Greenland, Norway, Sweden, Finland, northern Russia, Siberia, Estonia, northern Scotland, northern Ireland, Faroe Islands.
Southern hemisphere includes south island New Zealand, Tasmania, and Antarctica. More rare, but can be seen during geomagnetic storms, are Falkland Islands, southern Chile, and southern Argentina.
⭐
This is a list that may help you plan your aurora watching adventure. Of course there are many more locations that can see the aurora. How do you know where to go if you have never been there? The same rule applies. For the northern hemisphere, face north with nothing blocking your view. Light pollution, clouds, ash, and dust in the air may block or wash out the aurora.
Read maps and look at the terrain.
Look at light pollution maps.

⭐
Alaskans!
Where to go aurora hunting from Fairbanks, Alaska?
If you live or are staying outside of the city, you may not have to go anywhere. Have a clear view to the north/northeast. If you are inside the city, it may be a bit tough to see aurora when it is not bright or overhead. If the weather is poor, you may want to drive away from the clouds if possible.
The favorite spots are Chena Lakes, Cleary Summit, Olnes Pond, Golf Course (Ft WW), and anywhere on the outskirts of town. There is a bigger list of parking areas close to town at Where to Go Fairbanks. Of course, the further away from the city you are, the less light pollution.
⭐
Where to go aurora hunting from Anchorage, Alaska?
Anchorage actually is not too bad when it comes to light pollution. However, since the aurora is on the northern horizon much of the time, you will want to have a view to the north. The aurora can be seen overhead at times, but it is not as common as Fairbanks.
Anchorage area best spots are Flattop / Glenn Alps parking lot, Earthquake Park/ Point Woronzof, JBER 6 Mile Lake, Knik River Bridge and area, Skyline / Mt Baldy in Eagle River, and Hatcher Pass. For more details see Where to Go Anc.
Talkeetna, Alaska Where to Go list is here.
⭐
Where to go from Kenai Peninsula to Homer?
Kenai River, any beach, Anchor Point, bridge access, Marathon Rd.
Where to go from Seward?
12 Mile pullout, Resurrection Bay, Lowell Point
Where to go from Kodiak?
Along the shoreline, facing north.
Mill Bay Beach

⭐Where to go in Michigan?
the shoreline of Lake Superior
Headlands International Dark Sky Park, Mackinaw City
Pictured Rocks
Autrain
Whitefish Point
Brimley
Skanee
Big Bay
Breakers Beach, Houghton
McLain State Park, Houghton
Brockway Mountain, Mohawk
Eagle Harbor, Mohawk
Bete Grise Beach, Mohawk
Roadside Park, Eagle River
Port Crescent State Park, Port Austin

⭐
Where to go in Minnesota?
Boulder Lake, Duluth
Voyageurs National Park
Gunflint Lake
Boundary Waters
anywhere in North Minnesota where it is a clear view to the north. Northern Minnesota has excellent dark skies.

⭐
Where to go in Wisconsin?
Anywhere north of Wausau.
The shoreline of Lake Superior
⭐
Where to go in North Dakota?
Anywhere away from, and north of light pollution. See any light pollution map for details. This is important due to the oil fields on the western side of the state.

⭐
Where to go from Vermont / New Hampshire / New York?
Lake Willoughby
Mallets Bay State Park
Mount Washington
Adirondacks area
⭐

Where to go from Washington state / Oregon / Idaho?
Go to the ocean shoreline and face north.
Anacortes
Port Angeles
Eastern WA deserts and farmlands
Diablo Lake and Ross Lake overlook (via Hwy 20 facing north)
Hood River and the Dalles
Oregon desert
Priest Lake
⭐
Where to go from Wyoming?
Cheyenne, head north onto the prairies.
Laramie, outside of town, facing north.
Sheridan, outside of town, facing north.
⭐
Where to go when in Yellowknife, Northwest Territories, Canada?
Dettah Ice Road
Pilots Monument
Kam Lake Boat Launch
Parker Park
Tin Can Hill
Giant Mine Boat Launch
Off Highway 3:
any pullouts
Yellowknife Sand Pits
Fred Henne Territorial Park
Ingraham Trail:
Vee Lake Boat Launch
Yellowknife River Day Use Area
Prosperous Lake Boat Launch
Madeline Lake Territorial Day Use Area
Pontoon Territorial Day Use Area
Prelude Lake Territorial Park
Cameron River Territorial Day Use Area
End of Ingraham Trail, Tibbitt Lake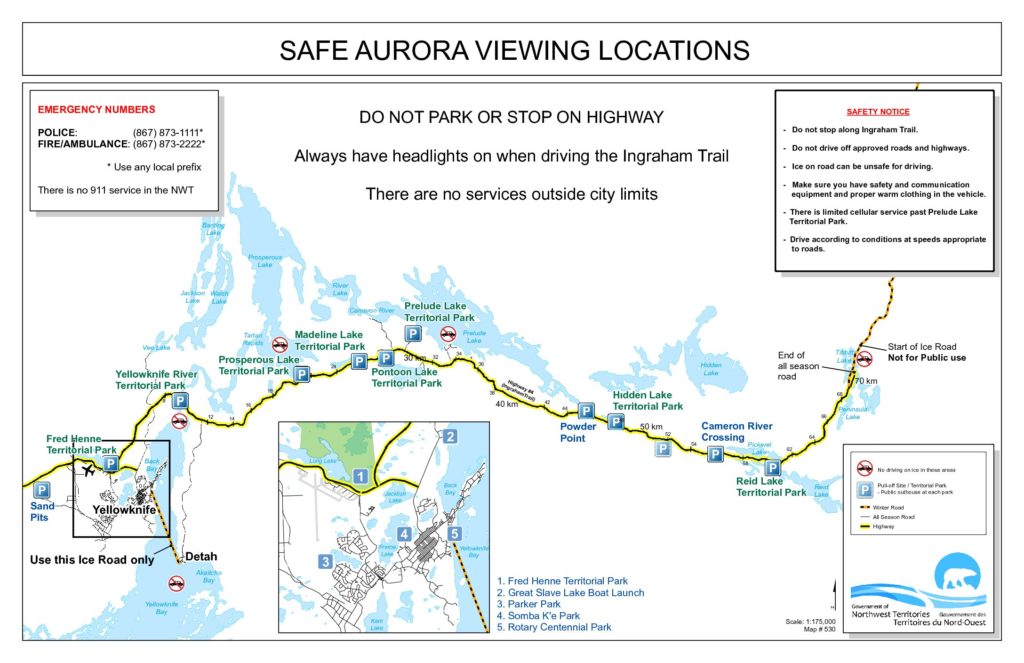 ⭐Where to go when in eastern Canada?
Away from the big cities and light pollution!
Find a dark sky preserve or star gazing location.
Ontario: Manitoulin Island, Gordon's Park Eco Reserve, Lake Superior Provincial Park and Old Woman Bay, Torrance Barrens Dark-Sky Preserve, Quetico Provincial Park
Entire region of Nunavik.
⭐
Where to go from western Canada?
For the Vancouver BC area, head to the coast and face north. Other good areas to watch are Whistler and Kamloops areas (away from the city center and streetlights)
Anywhere further north is good, away from the mountains that may block the view to the north.
Yukon, most areas are great, away from the mountains that may block the view. Whitehorse is a great location. If the aurora is low, you may have to go west or north of town to see aurora.
⭐
Where to go from central Canada?
Away from the big cities. Face north. There are too many locations to list. Much of the region is excellent viewing, away from the big cities.
Calgary, go west or east onto the prairies. Banff is ok if the aurora is high enough to be seen over the mountains.
Edmonton, a great place nearby is Elk Island National Park. Spruce Haven Park in Melfort SK. Prince Albert National Park. Regina, away from the city. Face north.
Here is a list for Saskatchewan by Northern Escape Photography.
⭐
Where to go in Ireland?
northern and western shoreline
County Mayo
County Antrim
Giant's Causeway
Dunluce Castle
⭐
Where to go from the Shetland Islands or northern Scotland, northern England?
Anywhere away from light pollution along the northern shoreline, or eastern or western shoreline that faces north.
north of Inverness
north of Aberdeen
Northumberland National Park
Low Hauxley

⭐
Where to go in Iceland?
Just about anywhere away from light pollution!
Latrabjarg
Asbyrgi Canyon
Vik
Thingvellir National Park
Skogafoss
Seljalauksfoss
Seltjarnarnes Peninsula
Hella
Near or in Reykjavik:
Grótta Lighthouse
Kópavogur Church
Reynisvatn Lake
Öskjuhlíð Hill


⭐
Where to go from Sweden, Norway, or Finland?
The further north, the better.
Avoid mountains that are seen when you face north.
There are too many wonderful places to mention. Please suggest locations for this section.

⭐
Southern Hemisphere, face south. The further south, the better. Tasmania, southern facing beaches, New Zealand, south island beaches facing south.
⭐

Where to go aurora hunting from ANYWHERE in the aurora oval.
The best spots are where it is dark with no light pollution.
Facing north, be sure there is no light pollution north of you. See light pollution maps for the best areas near you. Avoid tall mountains and trees. Favorite views may be on the southside of a lake or a field, with a clear view to the north. Another great idea is to be on top of a mountain, facing north.

⭐
Can the aurora be seen from _____ USA? Or another country not listed?
Most states, yes. Other countries, maybe. We will need a big geomagnetic storm. Just in the time that this website has been in existence, the aurora has been seen in almost all the states. This includes southern California, Arkansas, Alabama, and Florida. The most interesting and surprising sightings have been San Jose, California, Morrilton, Arkansas, and El Paso, Texas. If you live in an area that is not in the typical aurora zone, you can be ready to see the lights when a storm happens by following this website (and FB group) and learning! Know where to go and when!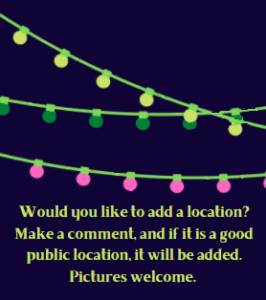 ⭐
This list was compiled by Amy Stratman @ Aurora Borealis Notifications