Get REAL TIME notifications when the aurora borealis is visible in the sky. This is not computer generated, but done by watching the data and seeing the aurora with our own eyes. Have you lived in Alaska several months or even years, and never have seen the aurora? We see it several times PER WEEK! GET ALERTED TONIGHT!
THE 5 LATEST ALERTS:

To report the aurora in your area, simply comment on the latest post, onto facebook, tweet, email auroranotify@yahoo.com or
text. Your report will be shared!


Quick access to the
Alaska Aurora Cam click here
HOW TO GET NOTIFIED OF THE AURORA: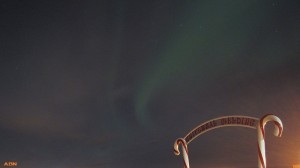 Get our Wake-Up Alerts. You will be called or texted when the aurora is out. LIVE. Immediately!  auroranotify.com/alerts/
Subscribe to this website. Go to the right top corner and enter in your email address. This is your free email alert.
Twitter works great for cell phone notifications! Be sure to turn on mobile notifications on our profile and activate it for the middle of the night hours (this is the most common time the aurora is out). @AuroraNotify
On Facebook, you can read posts and see photos concerning the aurora and space weather. facebook.com/ABNFNSB