Aurora Class and Party with aurora enthusiast Christian Harris, and our hosts Howling Bay Kennels and Cafego's Aurora View Farms & BnB.
$35 per person. In-person is FREE to any ABN former class attendees who bring a paying friend. Space is strictly limited.
Online LIVE class is $10 per person.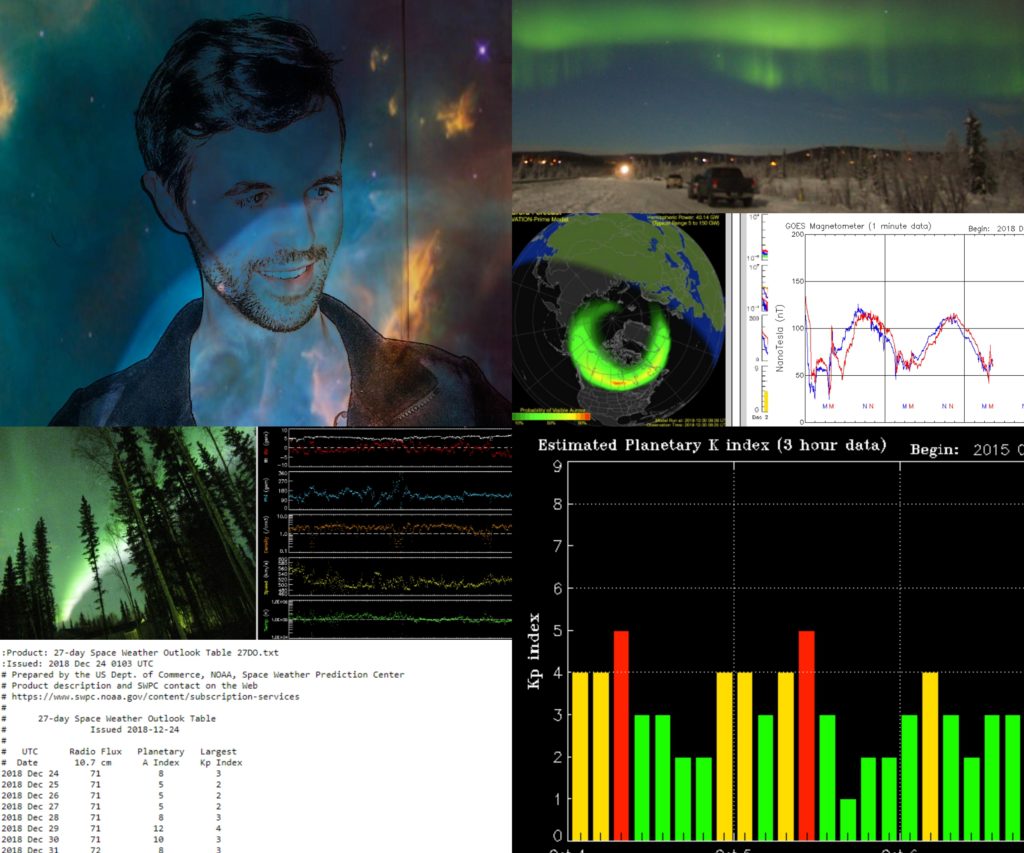 Friday March 12, 2021 8pm-11pm $35
location: Cafego's Aurora View Farms near Fairbanks AK
Saturday March 13, 2021 8pm-11pm $35
location: Howling Bay Kennels north of Fairbanks AK

Thursday, March 18, 2021 7pm-9pm

Location: ONLINE $10
Scroll down for more info.

Cafego's Aurora View Farms is located east of Fairbanks off Chena Hot Springs Rd.
Enjoy the hospitality of the bed and breakfast, in a relaxed atmosphere at the home of Tony and Laina Cafego, where everyone is treated like family. If the aurora is out, it can easily be seen, even when low on the horizon. Settle into your seat in the spacious living room and enjoy refreshments while learning to read data and waiting for the aurora to come out!
We are looking forward to seeing you at the class!
Howling Bay Kennels is located at 3873 Elliott Hwy Fairbanks, AK 99712. It is a little past Hilltop Truck Stop.
Warm up inside the Geodesic dome heated with a woodstove and sip hot chocolate with marshmallows. Then, go back outside to enjoy the amazing northern lights. Stand around the bonfire and practice your night sky photography among friends. Kevin and Tabitha welcome you to Howling Bay Kennels.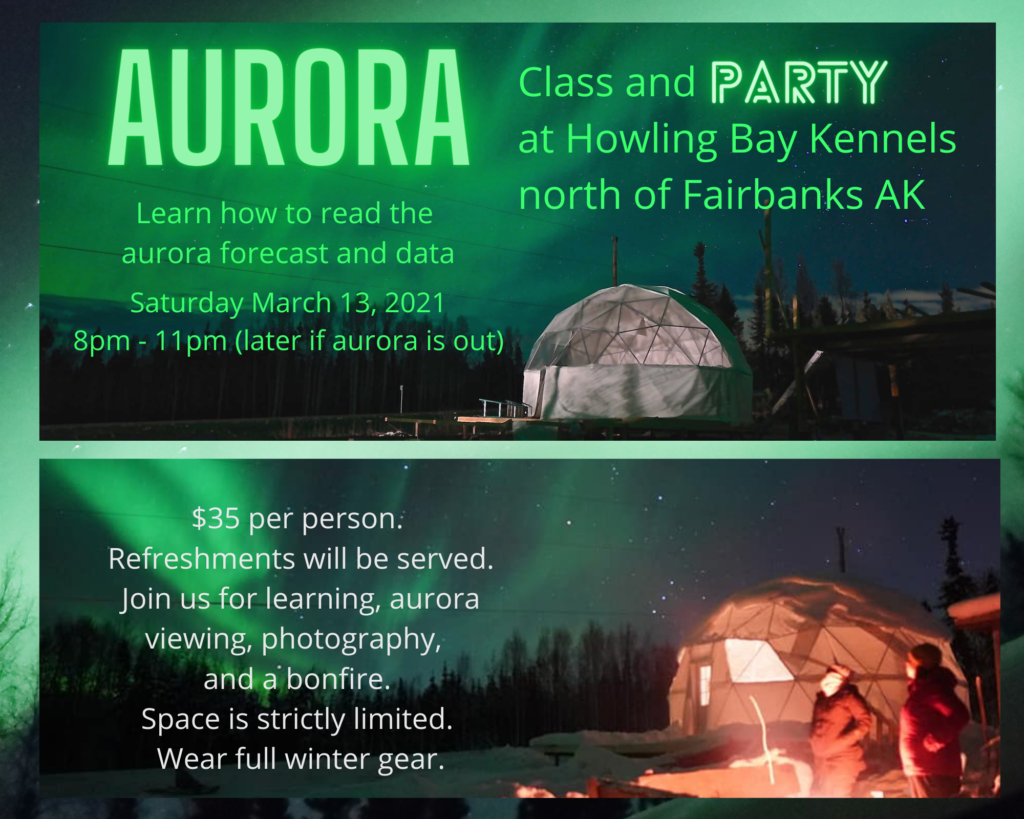 Join us online if you cannot attend in person to our Fairbanks Alaska classes. Or join us again! Although this class will be slightly different than in person classes (no aurora chasing and photography), you will enjoy the presentation. This class is scheduled for 7-9pm, but feel free to "stay" longer and ask questions.
We will present how to read the data and be able to know if and when the aurora will be seen. Utilizing past events and also reading live space weather, you will be able to interpret future space weather events and take your aurora chasing to a new level. No more "Any chance tonight?" posts, no more wondering, no more driving for miles when you should've stayed home, no more missed shows.
Presented by Christian Harris, speaker, and Amy Stratman, host.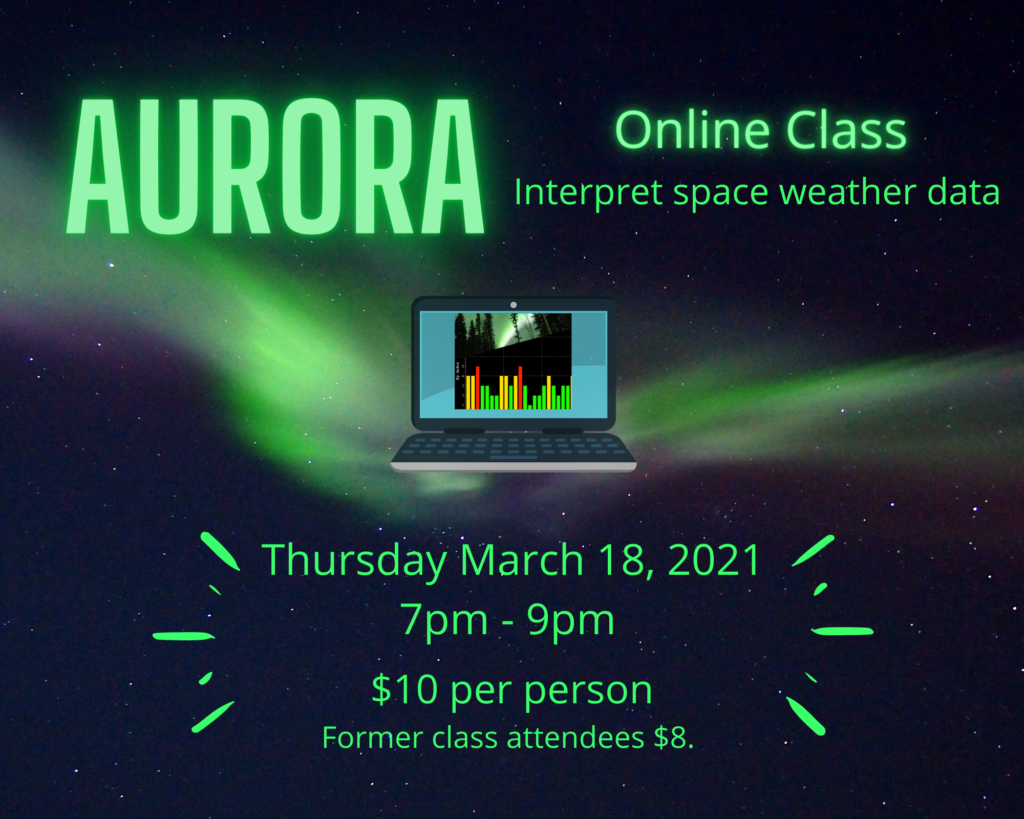 Aurora science class with emphasis on how to read the data and watch the aurora. Refreshments served. The class will be for the novice aurora watcher in mind and does not require any scientific knowledge. We will be learning through detailed past examples. We will go further into advanced as the class prefers. Leave feeling like you can tackle NOAA Space Weather, Space Weather Live, and other aurora websites with ease and confidently explain the aurora forecast to your friends and family.
The speaker and presenter will be Christian Harris, aurora enthusiast and expert. He holds a Bachelor's of Science in Astrophysics, The Ohio State University. His experiences include former admin to ABN group, admin to Space Weather Trackers facebook page, former contributor to the NASA Sunjammer project, and presenter at the 2019 Aurora Summit in Minnesota. This will be the 3rd year Christian has come to Alaska to speak for Aurora Borealis Notifications, and the 4th time aurora chasing in Alaska.
And more info….
What is the aurora? How can we see it? How to read the data, charts, and information on NOAA Space Weather and other websites. How to tell your friends, with confidence, when to see the aurora. Comment in ABN facebook group and social media with enthusiasm and help others "catch the lights". No more missed shows, and no more driving around for no reason.
If you have a question you want answered, but may be too shy to ask, please email ABN@AuroraNotify.com. Questions are also allowed during the class.
Some topics may include—-
Reading the data to determine if the aurora is going to be seen.
Aurora forecasts, 3 day, 27 day outlook, and why can't we plan aurora watching in advance.
Equinox effect.
What is a Kp level?
What is the Bz and Bt?
Density, phi angle, and the components of the interplanetary magnetic field.
What exactly is solar wind?
What is the "CHHSS" that I see in the group and in forecasts all the time?
What is the difference between a CME and a CHHSS?
Solar minimum and solar maximum.
Colors of the aurora.
GOES, ACE, DSCOVR, SOHO.
Shape descriptions of the aurora: corona, rayed bands, curtains, etc.
Sunspots and classifications & relation to flares (X, M, C)
What does geoeffective mean? ……and more.
What to bring—–
Notebook and pen, or your phone if you want to jot down notes.
Camera and tripod in case the aurora comes out. Helpful photography tips will be shared.
Please wear winter clothing.

There are several steps to enter Cafego's BnB and the dome viewing area at Howling Bay Kennels. There are dogs at both locations, so please advise us ahead of time if you have a service animal. Please no pets.

Save this number on your phone. Text Amy for last minute directions or help.