How to get to Cleary Summit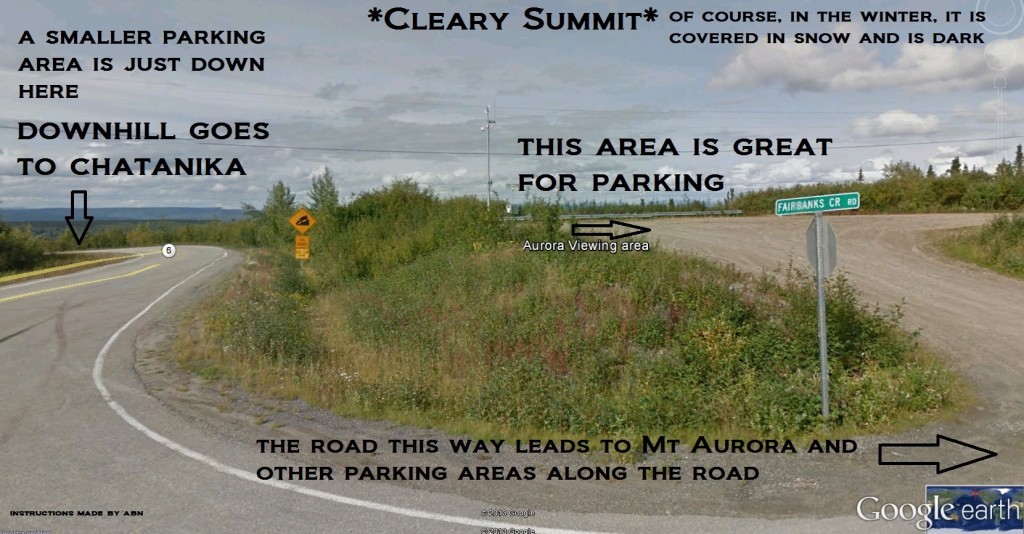 How to find Cleary Summit: Drive on the Steese Hwy north out of Fairbanks. When you get to Fox, at the weigh station, turn right. The highway is still the Steese Hwy! It passes Pedro Monument, NOAA, starts to go uphill, and then passes the road to Ft Knox Gold Mine. Before the road starts to go downhill, that is Cleary Summit. On your GPS search for Fish Creek Rd, Fairbanks. You'll notice on the photo it says Fairbanks Creek Rd, the names are used interchangeably. The photo depicts where you might want to park to enjoy the unobstructed view of the aurora. Over the years, the bushes have grown and may be in the way for photography of low aurora.
Please be courteous of others and turn off your lights, close your car door (lights), and do not let dogs wander around others tripods.