70% chance of major-severe aurora storm tonight!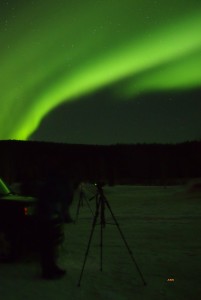 Major-severe storm predicted tonight from NOAA
Space Weather Prediction Center. If you have never seen the aurora, or only have seen a little green in the sky, you are in for a treat tonight! The green will be out for St Patrick's Day, along with a rainbow of colors for good luck. Kp estimate is a 6.
The aurora tonight is predicted to be wide-spread and may be visible in the upper portion of the lower 48 states, all of Canada, and the entire state of AK. Do not miss tonight, do not miss this aurora!
Ready to roll? Charge your cameras, get in a nap, have your long-johns ready! Hand warmers? Get gas in the car now! It will be dark enough to view the aurora around 9pm, however no one knows the time when the northern lights will come out. It could be anytime tonight, or after midnight.
Don't ask how to work your camera during an aurora storm. Learn your settings now! Go to Camera Settings on this website and review the settings you need. Can your camera capture the aurora? You just need a camera that can be set manually. It does not need to be a high end camera.