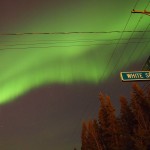 The aurora has been very quiet lately with only small, weak, and low shows as seen from the Fairbanks area. A recent event on the sun may produce auroras in the next few days, but nothing of significance as of this post. Sunlight is taking over our nighttime hours, and any aurora viewing will be between approx 12 midnight to approx 4am, the only dark hours left in the interior. We are about to say goodbye for the season.
A new phone system is being put into place this summer, and will be ready for alerts come August. We are very excited for this change and hope to bring you timely, quick, and accurate Wake-Up Alerts along with the ability to change your phone number and settings anytime you choose and as often as you would like.
For a discounted rate, sign up NOW for your seasonal year-long subscription. Rates will go up in August as the system is implemented.