Best of 2014 Aurora Photos
On our Facebook Page, we are posting our favorite photographers Best of 2014 Aurora Photos. Check it out on the page, or see the front page of this website for the latest photos! I hope you enjoy reminiscing the aurora shows of 2014 as much as I did. Happy New Year!
This was my best photo this year that was taken with my little point and shoot Canon Elph. You don't need a fancy camera to get aurora shots! Photo from a cold January night looking at my former apartment building in North Pole. It's a little grainy, but thought my little camera did a great job.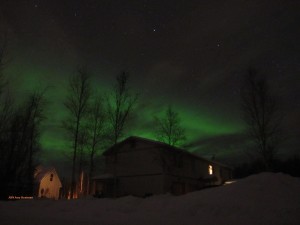 Taken with my "real" camera, my Olympus PEN, I love this photo from February because I love the star constellation Orion. The sky was a diffuse green and the stars popped on that cold night. I took the photo from the safety and comfort of my living room in North Pole.