Auroras from CH HSS expected tonight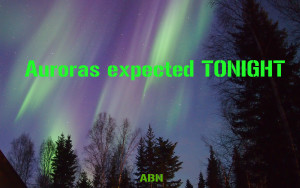 The forecast for tonight is still looking great! I have read in the news media that the storm will begin on Monday night. Do not be fooled. The forecast is for TONIGHT, Sunday night, and may last 3 nights. The aurora storm is due to a high speed solar wind stream from a coronal hole (CH HSS). Last time we saw this coronal hole was a month ago, during the big Oct 6 show we had, where we saw streaks of purple with the naked eye.
Northern and mid latitude states, all of Canada, and all of Alaska be on alert tonight. If you cannot stay up to wait, check again in the morning when it is still dark. There is a possibility that it may not arrive tonight, but it CAN. Also be ready for Monday night!
From NOAA Space Weather:
The numbers you see here are percentages. Active means Kp 4, Minor Storm means Kp 5, and Major-Severe Storm means Kp 6 or higher.
Geomagnetic Activity Probabilities 02 Nov-04 Nov
A. Middle Latitudes
Active 20/25/35
Minor Storm 35/40/15
Major-severe storm 40/30/01
B. High Latitudes
Active 01/05/10
Minor Storm 10/10/30
Major-severe storm 90/85/50