Auroras last night AND tonight, be ready
Last night the aurora was out ALL NIGHT LONG from Seward, Alaska and north! Northern Canada saw the lights also.
As our morning came, Norway and northern Europe to include Scotland and northern Ireland saw a nice green band.
********TONIGHT******The current Kp index as of 6pm Alaska time is Kp 5. Be ready for lights tonight in all of Canada, and all of Alaska. If the aurora should make an appearance in the northern states, let there be no excuse not to see them due to the temperature! Be prepared, wear the proper clothing and bring the proper gear.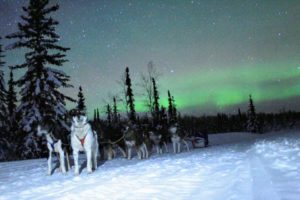 Beautiful display seen from just north of Fairbanks, Alaska at Howling Bay Kennels. Check out their Facebook page for more photos.
LAST MINUTE TOURS AVAILABLE…SEE WEBSITE FOR RECOMMENDED TOUR GUIDES
Last night's show from North Pole Alaska via the webcam:
Join us in the Subscription Group Aurora Tonight for access to the live streaming cam! Also, get one on one help with your aurora adventure!