Some sales are happening, Book soon for busy March Aurora Tours
Here is the scoop….
Some aurora tour guides are raising their rates either for the New Year 2020 or next season. BOOK SOON for the best rates!!! Mention Aurora Borealis Notifications when you book please!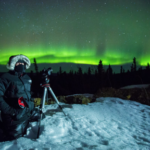 Ronn and Marketa Murray aka The Aurora Chasers are taking reservations for Feb and March (and 1 week in April) right now. You can reserve a spot directly from Aurora Borealis Notifications here.
Did you see the photos from Rod's Alaskan Guide Service ice fishing under the aurora? Ice fishing will be available for a few more months in North Pole, Alaska. If you are wanting to book for next year, ice fishing typically starts up when the lake freezes by Dec 1. See the photos on his facebook page here.
Arctic Dog Adventure Co in Fairbanks, Alaska just left on one of their epic aurora watching dog sled tours. They'll be back in a few days. Drive a dog team to a remote aurora viewing camp north of Fairbanks. The ultimate Alaska bucket list check off!

March is a popular time to see the aurora, due to the spring equinox, the weather, and things to do around town (in all aurora locations). If you were planning to travel to the aurora zone in March, you need to book immediately for your choice dates. This includes rooms, aurora tours, activities, and most especially car rentals!
Going to Delta Junction, Alaska? Plan on it! Steven Miley is having a sale. Ice caves, hiking, aurora watching excursions for the outdoors person. Save $100 off your reservation when you book an Aurora Borealis Photography Tour between now and January 31, 2020. Enter code "2020" at checkout.