A good time to visit Fairbanks to see the northern lights is anytime between mid-August and mid-April. That is when we have dark skies at night. The best aurora shows are said to occur during equinox, fall and spring. These also happen to be the best weather months, as it is not too cold, and the roads are clear.
You can see the aurora in January, but the temps are brutal. You will take 1 or 2 photos and your fingers will feel numb without the proper gear. Then there is your camera freezing and the battery being drained. Keep all of this in mind when you come to Alaska. Have spare batteries, bring long johns, and proper boots. Some tour groups provide gear. Plan ahead!
How cold does it get? It can and does get to -50F and sometimes colder, and does not let up for days, even weeks. The insides of buildings are warm. Your hotel, room, cabin, and stores are warm. Dress in layers to go from staying inside to being outside.
The roads are snow-covered and icy from October to April. We as residents driving from home to the store do not generally use chains to drive. Some people have snow tires, and some don't. Truckers and busses sometimes use chains. If you are uncomfortable driving on the ice, there are many ways to drive out to see the aurora if not seen in town. You can hire a taxi driver, a guide, or join a tour group. Ask your hotel if the shuttle driver can drive you away from light pollution. It doesn't hurt to ask.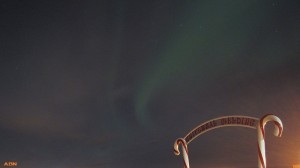 The Fairbanks Visitor's Guide, TripAdvisor, and others have good information concerning tours and trips. Be sure to look for the locally owned small business for the best northern lights experience. You can see the aurora from most hotels and B&B's in the area, without having to drive anywhere. If you are looking to see the aurora in all it's beauty away from city lights, then reserve a place far from town. Even 30 miles away is close when it comes to light pollution. In a darker location, you will see more structure, more color, and details in the stars.
The Fairbanks area sees the aurora almost nightly. If the weather is clear, you have a great chance of seeing it. But it is not always overhead. Look to your north, northeast, and low on the horizon if you can't find it. Another trick is to find the Big Dipper star constellation. That will guide you in the right direction to look. Next time you see a photo of the northern lights, see if you can see the Big Dipper. Chances are, you can.